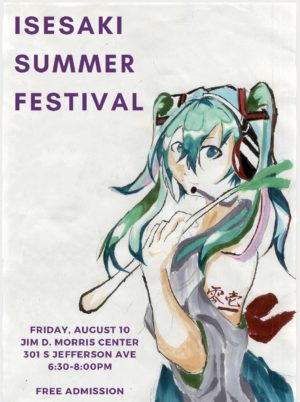 Hundreds of middle school students from Isesaki, Japan arrived in Springfield, Mo. on Friday, August 3, 2018. They've come to their sister city of Springfield to study the English language at Missouri State University.
On Sunday, August 5, they were treated to a day spent with Springfield citizens. They loved getting to know the locals and experiencing a typical day in the Queen City.
On Friday, August 10, the students invite you to attend their "Isesaki Summer Festival" from 6:30pm-8pm at the Jim D. Morris Center, 301 S. Jefferson Ave. (corner of Jefferson and McDaniel in downtown Springfield).
They organized this event as a "thank you" to Springfield for welcoming them to our city with such hospitality. They want to share their culture with Springfield as Springfield has shared its culture with them.
The students have planned a fun night full of Japanese games, activities, crafts, performances, and demonstrations for the whole family!
For more information, please contact ELI Special Programs at MSU at elispecialprograms@missouristate.edu or 417-836-8206.