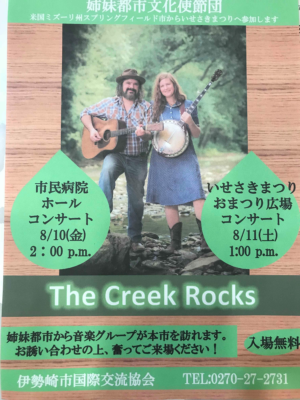 The Creek Rocks, an Ozarks band consisting of area locals Mark Bilyeu and Cindy Woolf, are headed to Isesaki, Japan this August to represent Springfield. The Creek Rocks will headline the Isesaki City Festival and will perform at a variety of other venues throughout their stay.
Isesaki hosts a Springfield performance group for their festival in August every year. Performers are treated to homestays where they are immersed in family and culture, and they experience unique sight-seeing opportunities.
We are so grateful to our friends in Isesaki for always taking great care of our delegates.