This year's Japanese Fall Festival will be held September 10-12 in the beautiful Mizumoto Japanese Stroll Garden.
We will be honored with the performances by our delegation from our sister city of Isesaki, Japan. Their group will lead authentic tea ceremonies, play koto (Japanese style harp), demonstrate flower arranging, and have a kimono fashion show. The performing delegations sent by the City of Isesaki are always the highlight to our event, and SSCA would like to thank them for their efforts.
We will also have a professional story teller, performing stories for children while wearing costumes and doing magic. Kuniko is coming all the way from Orlando, Florida, so don't miss her on stage!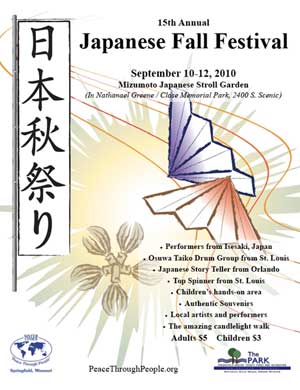 Yes, the Osuwa Taiko Drum Group from St. Louis will be performing again. Taiko drums are truly amazing. Your whole body beats with the rhythm of these giant drums. Other highlights and performances will include a top spinner from St. Louis, local artists, souvenirs, a children's activity area, demonstrations and exhibits.
Each evening ends with a beautiful candlelight and torch walk. This is the only time of the year you can see this beautiful garden at night.
Volunteers are needed! We need your help staffing the event or hosting the visitors from Isesaki in your home. Performers related to Japanese traditional culture, pop culture, or history are needed!
If you are interested in getting involved, please call Cindy Jobe @ 864-1341 or send an email
SSCA would like to thank the Springfield-Greene County Park Board for their support and partnership for this event. It takes SSCA and Parks to make this work for our community!
click here to download the 2010 Japanese Fall Festival poster