Photos by Mika Logan –
The farewell party at Greenwood for the Yotsuba Gakuen students from Isesaki, Japan was full of Japanese cultural activities. Students played Ayatori, a traditional girls' game in which a loop of string is passed from player to player using both hands to make various shapes.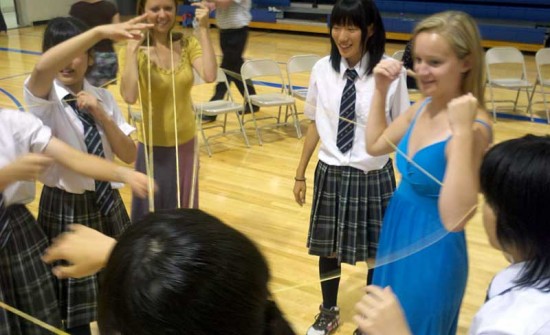 Two students demonstrated Kendo – the basic "Kata" (position) which was a quiet and smooth move, unlike many martial arts group performances which are done to loud music at the Japanese Fall Festival.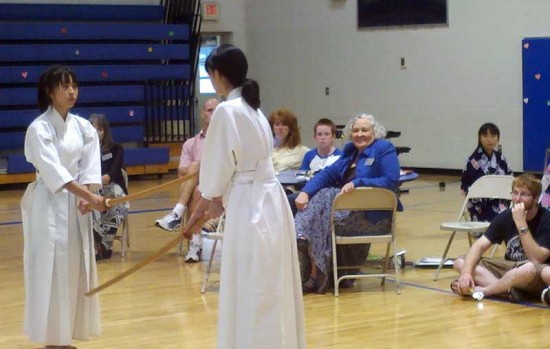 During their two-week visit to Springfield, the Yotsuba students stayed in dormitories during the week for their intensive English classes at Missouri State University. They also had the opportunity to experience local family life by staying with a Springfield host family on the weekend.
For the Japanese Tea Ceremony, students dressed their Sunday host families in Japanese Yukatas and taught them how to make Matcha (green tea). The participants learned to scoop powdered tea from container to their tea cup, pour hot water into the cup, and use the bamboo whisk in the proper way.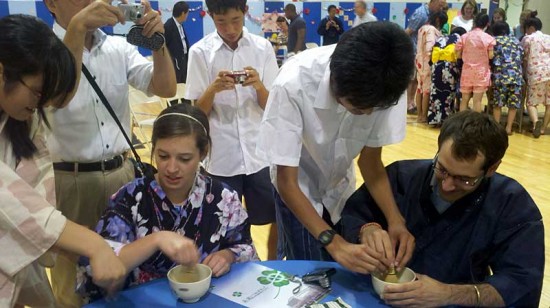 The Japan night was well organized with many tables for different activities — Tea Ceremony, Calligraphy, Japanese snack foods, and Japanese games. The students taught each activity at the tables and then performed Japanese song and dance and Kendo on the stage.
For the grand finale, everyone joined hands in a big circle and sang "We Are the World."
Click on  a photo below to see it larger: