Isesaki News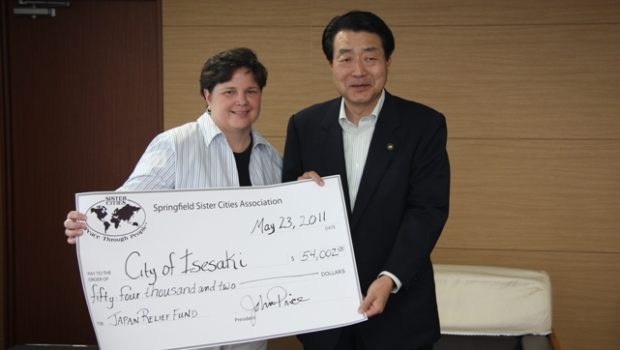 Published on July 18th, 2011 | by ssca
1
Japan Relief Fund totals over $54,0000
During a June trip to Isesaki, Springfield Sister Cities Association Coordinator Cindy Jobe presented Mayor Kiyotaka Igarashi with a ceremonial check for more than $54,000 collected in the Sister Cities Japan Relief Fund.
The money had been wired in several installments after a series of fundraising events along with private contributions. The goal was to send the money to Isesaki, which was not in the tsunami's path, with the idea that residents there would know how the funds could best be used.
In a letter to the People of Springfield, Mayor Igarashi expressed his appreciation for the fundraising effort. "We will use your relief money to help victims and our disaster prevention measures," Mayor Igarashi wrote. "We will work to regain people's daily life as soon as possible. "I am deeply grateful to you and people of Springfield for your kindness," he wrote.