Are you interested in hosting a student from Isesaki in your home for a few days?
The student exchange between our local high schools and the Junior High School (9th grade level) has been going on for 23 years! This year Isesaki will be sending a group of about 16 students to Springfield August 3-8. Usually it is easier on the students and the host family if they stay in pairs, but if you only have room for one that is ok too!
The coordinator of this exchange once the students arrive is Kickapoo teacher Kazumi Holcomb. She is making all arrangements for the visiting students, including touring and sight-seeing during the day, host families, and transportation.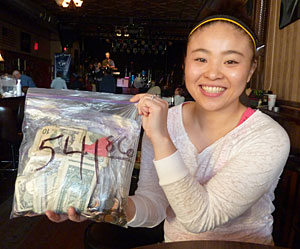 Many of the days are filled with planned activities, so on these days you simply need to transport your guests to the meeting place in the morning and then pick up in the late afternoon.
On Saturday and Sunday you will keep your students the entire time. Really what they need to do is what you would normally do during these times. A trip to the lake, shopping, visiting family, going to church? The idea is that the kids get to see and be a part of an American family.
This is an easy way to get involved and help SSCA, learn about Japanese culture while sharing that of America, and have some fun at the same time! Please, click here to mail Kazumi if you are interested or if you have any questions.
photo above: Kazumi holds up money raised by Springfield's Kickapoo students for the Japan Relief Fund