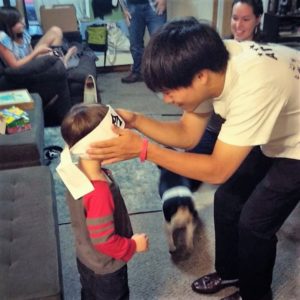 The Japanese Fall Festival brings Japanese artists and performers to Springfield to share their culture with the community. We are looking for hospitable Springfieldians like you to host them during their stay. Hosts are the embodiment of our mission of "Peace through People" and are often declared to be our guests' favorite part of their visit.
Hosts aren't required to know the Japanese language; most guests speak some English and all respond well to kindness in any language. Hosts don't need to plan extravagant activities, but they do need reliable means of transportation to get their guests to and from scheduled activities.
Here is what Taylor S. had to say about his experience hosting Taiki, a 2018 Japanese Fall Festival delegate from our sister city of Isesaki, Japan:
"Hosting a delegate from a Sister City is the best way to see your own life in your own city with brand new eyes. You won't regret it.
Sure, it's fun to compare and laugh at cultural differences with your homestay guest, but what's most incredible, is realizing that there are more similarities by far.
Our homestay guest, Taiki, was a literal embodiment of the Springfield/Isesaki relationship. Through sheer enthusiasm, he greeted every new experience and every new person with so much excitement, that the very real language barrier and cultural divide simply ceased to exist. Watching him greet and interact with dozens of delighted guests of the Fall Festival; all thoughts of the time, money, and energy required to host someone were drowned out by a resolute 'THIS is why we do this.' and 'This is not only worth the effort, but how can I do more?'
Originally, it was I, who signed us up to host a member of the delegation this year, and I absolutely didn't want to inconvenience my fiancé, Merry, who is already busy enough running her business, with the work required to host someone. But after meeting our guest, Taiki, a remarkable connection was formed, and she helped me in ways I could never imagine to show our new friend a fun and enriching experience in our Country and our City."
If you are interested in opening your home to a Japanese delegate (and making a life-long friend), please let us know by filling out our host interest form below.
Host Interest Form
[ninja_form id=11]