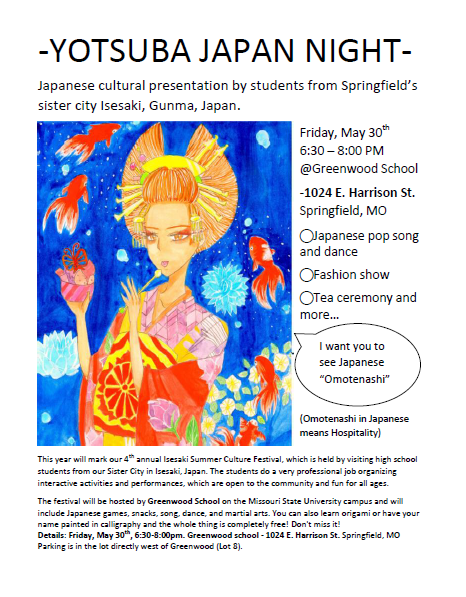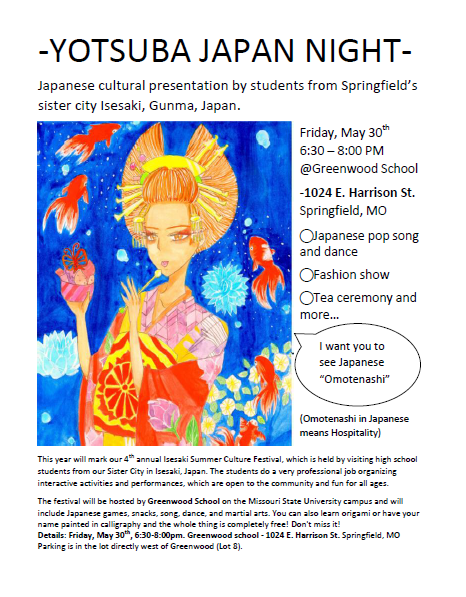 Tonight is YOTSUBA JAPAN NIGHT-
Japanese cultural presentation by students from Springfield's sister city Isesaki, Gunma, Japan.
Friday, May 30th
6:30 – 8:00 PM @Greenwood School
-1024 E. Harrison St. Springfield, MO
– Japanese pop song and dance
– Fashion show
– Tea ceremony and more…
??
This year will mark our 4th annual Isesaki Summer Culture Festival, which is held by visiting high school students from our Sister City in Isesaki, Japan. The students do a very professional job organizing interactive activities and performances, which are open to the community and fun for all ages.
The festival will be hosted by Greenwood School on the Missouri State University campus and will include Japanese games, snacks, song, dance, and martial arts. You can also learn origami or have your name painted in calligraphy and the whole thing is completely free! Don't miss it!
Details: Friday, May 30th, 6:30-8:00pm. Greenwood school – 1024 E. Harrison St. Springfield, MO Parking is in the lot directly west of Greenwood (Lot 8).