Japan Relief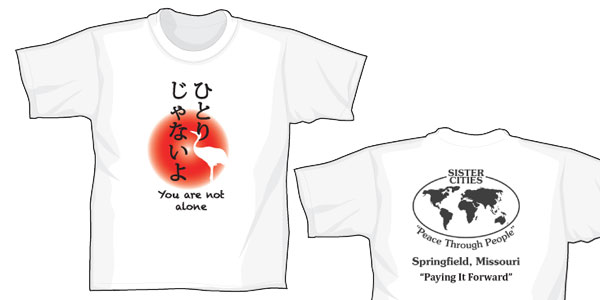 Published on March 30th, 2011 | by ssca
3
More T-shirts for our Japan Relief donors
These t-shirts designed by Japanese artist Mika Logan are popular! We had a batch of them printed up just in time for the fund-raiser at Nakato Japanese Steakhouse last Monday, and they were all snatched up that same night.
We are now taking orders for the t-shirts to help our friends in our sister city of Isesaki and Japan recover from the recent earthquake and tsunami that devastated their country. 100% of profits from t-shirt sales will go to the relief effort.
Email sistercity@springfieldmo.gov with your shirt size, name and address. As soon as we receive your check for the minimum donation of $25 we will send your shirt in the mail. Make checks payable to:
SSCA (memo: Japan Relief)
1923 N. Weller
Springfield, MO 65803
(417) 864-1191
Thank you for your continued support!