Newsletters
Download past SSCA newsletters for articles and photos about Tlaquepaque, Isesaki, homestays, & more…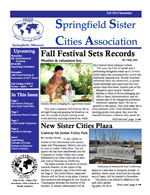 Including:
Springfield Supports Japan in Wake of Historic Devastation
Irish Sister City Being Sought, Researched
Rotary Connections Add Service Element to Sister Cities Partnership
2011 Kite Festival – Cold, but Kites Fly High Again
Progress Happening in Mexico, Plans Underway for Upcoming Projects
ArtsFiesta! A Success: Mariachi Drive Midwest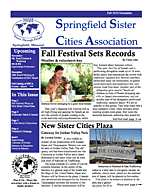 Including:
Japanese Fall Festival Sets Records
New Sister Cities Plaza
Kellswater does a "jig" in Japan
One Family's incredible experience as a host home
Boy Band Heads to Isesaki
Join our Citizen's trip to Mexico in February 2011.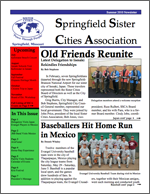 Including:
Old Friends Reunite (the Latest Delegation to Isesaki)
Baseballers Hit a Home Run in Mexico
Mariachi Music Magic!
Extending Your Family Globally
Tlaquepaque Treasure Shared with Springfield Students
and Message from President John Price.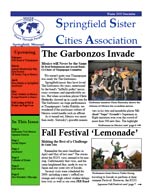 Including:
The Garbanzos Invade Mexico
Japanese Fall Festival Lemonade
ArtsFiesta ArtsFREEZEesta
Why We Fly in March (the Kite Festival)
and Letter from Past President Diane Elizabeth Osis.