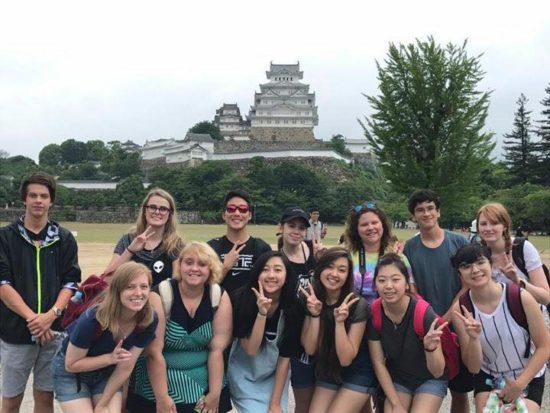 We are thrilled to offer another exchange program to take Springfield high school students to visit Japan in 2019! Led by Kazumi Holcomb, seasoned traveler and Japanese language instructor at Kickapoo High School, these trips offer students the experience of a lifetime in an immersive but safe and structured environment. Students from any area high school and high school aged homeschoolers are welcome to take the trip.
Itinerary information is still pending, but students can expect to visit Tokyo, Hiroshima, and of course our sister city of Isesaki, Japan where students will be treated to home stays with Isesaki families. The trip departs on Thursday, June 20 and returns on Monday, July 1.
COST
The total cost for this trip is $3,500.
This amount includes:
– Airfare (Springfield, MO to Japan)
– Hotels
– Meals (3 per day)
– Domestic transportation in Japan
– Facility admission fees
– Minimum travel insurance
This amount does not include:
– Personal spending money
– Passport fees
– Extra travel insurance
Scholarships are available for up to $1,000.
PAYMENT SCHEDULE
Friday, September 28 | $100
Friday, January 4 | $2,000
Friday, February 8 | $500
Friday, March 8 | $500
Friday, April 5 | $400
Pay by check or money order
All checks or money orders should be payable to "Springfield Sister Cities Association" or "SSCA." Please be sure to write your participant's full name and "Japan Trip 2019" in the memo area.
Springfield Sister Cities Association
Attn: Student Japan Trip 2019
2400 S. Scenic Ave.
Springfield, MO 65807
Pay by credit card
Credit card payments are subject to a processing fee of 2.9% + $0.30.
Please click here to make an online payment. Please be sure to write your participant's full name in the "notes" section when checking out.
CANCELLATION POLICY
No refunds will be issued after flights and hotels are finalized. For a full refund, you must notify Kazumi Holcomb of your cancellation in writing by Tuesday, January 15. Cancellation after this date does not guarantee any refund.
QUESTIONS
For questions regarding payment, please contact Cindy Jobe at 417-864-1341.
For questions regarding general trip information, please contact Kazumi Holcomb at 417-773-1087.