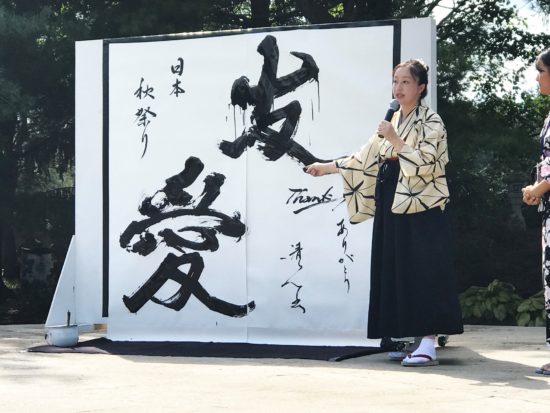 Thursday, September 27 at 5:30pm
ideaXfactory's outdoor stage
351 North Boonville Avenue
World-renowned Japanese calligrapher and artist Seiran Chiba is in Springfield for a special performance of shodo (Japanese calligraphy) with a modern approach inspired by hope and peace.
The performance is free and open to the public. Set to music, it will last about 20 minutes. Afterward, she may be available for short questions and to meet members of the audience.
Chiba last performed in Springfield at the 2017 Japanese Fall Festival.
Chiba lives in Fukushima prefecture in Japan where, as a cultural ambassador, she began a journey to travel to each of the 59 municipalities of Fukeashima and create works in each one.
In March 2011, when she had only 6 more municipalities to go, an earthquake and tsunami struck followed by Fukushima's nuclear disaster. Seeing first-hand the destruction and despair in the aftermath of the tragedy, Seiran hardened her resolve to pursue life as a calligraphy artist.
She completed her trip and opened workshops for victims who had lost family and homes, helping them express their feelings through calligraphy. Her volunteer work continues to this day.
Sister Cities is very grateful to ideaXfactory for helping to facilitate this unique experience for Springfield. ideaXfactory is a not-for-profit contemporary art installation space. The current indoor exhibition is eXtreme Fiber Art on display until Friday, October 12 and open to the public on Tuesdays and Thursdays from 3-7pm. For more information on the ideaXfactory, please visit ideaXfactory.com.