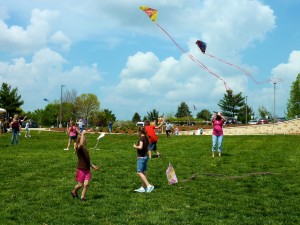 The Springfield Sister Cities Association and Friends of the Garden will dedicate the new Peace Through People Pavilion Saturday, April 22, immediately following the Cherry Blossom Kite and Piñata Festival at Springfield Botanical Gardens at Nathanael Greene/Close Memorial Park, 2400 S. Scenic Ave., Springfield.
The annual festival takes place in the park 11 a.m.-3 p.m., highlighting Springfield's Sister City relationship with Isesaki, Japan and Tlaquepaque, Jalisco, Mexico. Kids and adults are invited to fly kites in the park as well as try kite building and decorating, piñatas, face painting, chopsticks instruction, origami and other Japanese and Mexican crafts and games. Performances during the festival feature Uke 66 ukulele group, Marimba Caliente and Kizuna Japan American Friendship Club, which will lead interactive folk dancing. All activities are free except for kite building — kite kits cost $5. Admission to the Mizumoto Japanese Stroll Garden, usually $3, is free all day April 22.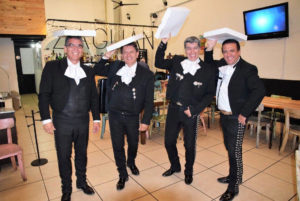 Immediately following the festival, everyone is invited to a free 3-5 p.m. Peace Through People Pavilion dedication concert, featuring Mariachi Viva Xalisco, and special guest, Paco Padilla, all visiting from Tlaquepaque. Bring your own lawn chairs or blankets.
At about 4 p.m., as the band takes a break, the Springfield Sister Cities Association and Friends of the Garden will unveil a new sculpture near the pavilion by Tlaquepaque-based sculptor Rodo Padilla. The sculpture, titled "Amigos," features bronze spheres with happy smiles atop a black ceramic-covered body that serves as a reclining park bench. Part of the sculpture wraps around a dogwood tree, planted as part of the design. The sculpture has been installed in the park, but remains under wraps until the unveiling.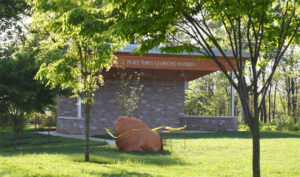 "The sculpture comes to life expressing a true relationship of friendship and peace between people and their God-given environment," Rodo Padilla wrote in a statement about the piece, translated from Spanish. Rodo Padilla, brother to Paco Padilla, and his wife Pattie will also be in attendance for the event.
Saturday's activities take place rain or shine. If rain is heavy, the concert and other activities will be moved inside the Springfield-Greene County Botanical Center.
Construction of the Peace Through People Pavilion and commission of the sculpture were funded entirely by private donations through the Springfield Sister Cities Association and Friends of the Garden. Read more about the pavilion at ParkBoard.org


The Cherry Blossom Kite and Piñata Festival, and the dedication concert, are made possible through a partnership between the Springfield Sister Cities Association, Friends of the Garden, the Springfield Regional Arts Council, the Community Foundation of the Ozarks, Kickapoo High School Japanese Language Club and the Springfield-Greene County Park Board. For more information, visit peacethroughpeople.org