Japanese Festival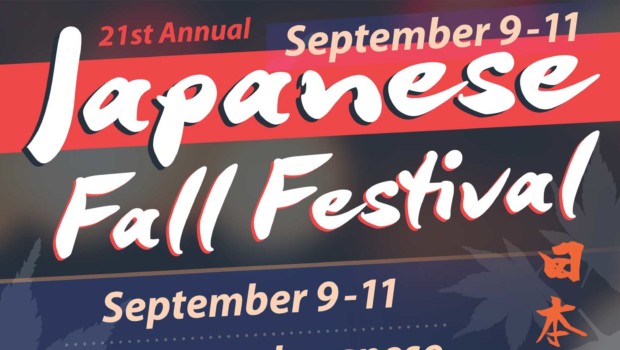 Published on August 9th, 2016 | by ssca
2
21st annual Japanese Fall Festival 2016
21th annual Japanese Fall Festival
September 9-11, 2016 in the Mizumoto Japanese Stroll Garden
Nathanael Greene / Close Memorial Park
2400 S. Scenic, Springfield, Missouri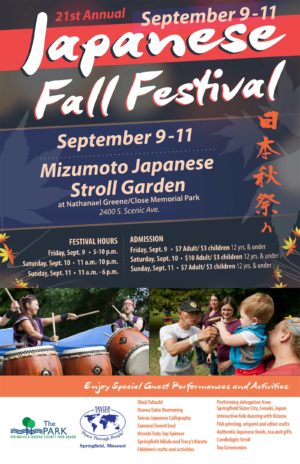 We've got an an exciting line-up of performers and many activities:
Shoji Tobuchi – 5:00 on Saturday special guest performance
And throughout the festival….
Samurai Sword Soul out of New York
St. Louis Osuwa Taiko – Japanese drummers
Guests from our sister city of Isesaki will include a small music group and folks to help with tea ceremony, calligraphy and more.
Kizuna (local Japan America Friendship Group) will be leading interactive dance and hosting special tea ceremonies.
Hiroshi Tada – top spinner
Springfield Aikido
Tracy's Karate
Seiran Chiba – a special performer from Japan who does large-scale Japanese calligraphy 
and other local performers and artisans!
We will have tea ceremonies and the tea café, Japanese food and concessions, a great souvenir tent,
children's activity area sponsored by Kickapoo Japan Club, a hands-on craft and art tent, Candle Light Walks and much more!
Tickets will be available at the gate.
Friday tickets are $7 for adults, $3 for children (12 and under.)
Saturday $10 for adults, $3 for children.
Sunday $7 for adults, $3 for children.
We need volunteers too! It's an easy and fun way to make new friends, so if you'd like to volunteer to help out, here's sign-up list for the main gate and the souvenir tent. Volunteers are necessary for success for this event. We need you!!
http://www.signupgenius.com/go/20f044cabaa2da2fd0-japan