Tlaquepaque News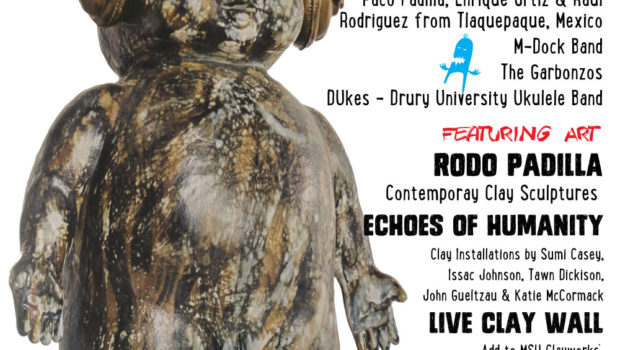 Published on September 29th, 2015 | by ssca
0
Visiting Tlaquepaque Musicians and Artist featured at idea-X-fest on Oct. 9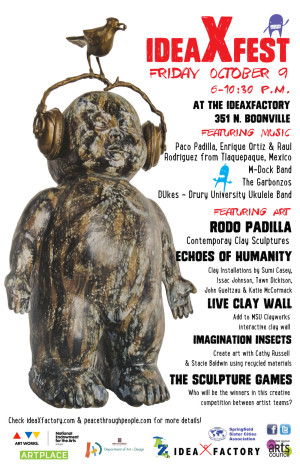 Four musicians and a ceramic artist from our sister city Tlaquepaque, Jalisco, Mexico will be featured at a multicultural music, art and ideas festival at the ideaXfactory, 351 N. Boonville Ave. on Friday, October 9 from 6-10:30 p.m. This event is created through partnerships between the ideaXfactory, Springfield Sister Cities Association, Springfield Regional Arts Council, Missouri State University Art + Design Department and through a grant from the National Endowment of the Arts. The Mexican musicians will play guitar, performing songs written by renowned folk song-writer Paco Padilla on the outdoor ideaXfactory stage along with local musicians who have previously performed in our sister cities in Japan and Mexico: Paco Padilla, Enrique Ortiz and Raul Rodriguez from Tlaquepaque, the M-Dock Band, The Garbonzos, the DUkes – Drury University Ukulele Band
Rodo Padilla is a ceramics and bronze sculptor from our sister city Tlaquepaque, Jalisco, Mexico, where he maintains a working studio with 24 employees. After graduating as an industrial engineer at University of Guadalajara, he studied ceramics in Japan, Argentina and Italy. Rodo has received Mexico's National Award of Ceramics awards in 1992, 2000, 2003 and 2007, and he is currently represented by Tlaquepaque and Puerto Vallarta galleries. He serves as President of the National Ceramics Award and was named the Ambassador for the Pan American Games Guadalajara 2011.
He will be visiting Springfield, Missouri through a cultural exchange in partnership with the Springfield Sister Cities Association in October for the Taste of Tlaquepaque (a ticketed fundraiser for the SSCA on October 8).  His contemporary ceramic sculptures will be exhibited at the ideaXfactory at the idea-X-fest, and during the November 6th First Friday Art Walk.
Other features of the ideaXfest: 
Sculpture X Games is a creative sculpture competition for artists and artist teams who have been commissioned to create outdoor sculptures. The artists have a month to prepare, then one week to build the sculptures starting on Oct. 2nd. They will be judged on Oct. 9, then the award-winners announced and on exhibit at the ideaXfest. Participating artists include faculty and students from MSU, Drury University, and independent and professional artists.
"Echoes of Humanity" is a series of clay installations by five graduates of MSU Art + Design program. Emerging artists Sumi Casey, Issac Johnson, Tawn Dickison, John Gueltzau and Katie McCormack will fill the interior space of the ideaXfactory with their contemporary clay installations exploring themes of anonymous secrets, taboos, distant cultures, soldier and civilian losses, and a garden of reflection.
Interactive Clay Wall by MSU Clayworks – In partnership with the Missouri State University Art + Design Department, the outdoor Interactive Clay Wall by MSU student group Clayworks will invite public participation.
"Imagination Insects"  Hands-on area will be hosted by art educators Cathy Russell, Stacie Baldwin and Art Zone Nixa.  The public is invited to participate in all-ages sculpture building of imaginary insects using recycled materials.
This is a FREE family-friendly event, not to be missed! Mark your calendars and join us for the fun on October 9th!