Japanese Festival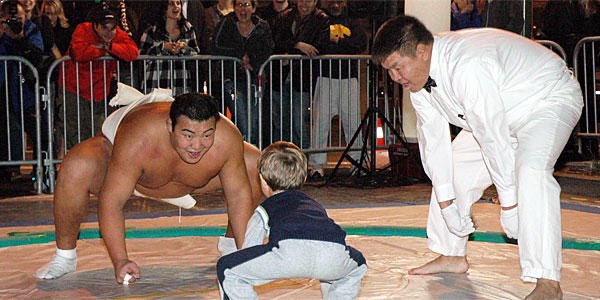 Published on September 7th, 2011 | by ssca
0
World Champion Sumo Byamba to compete at Japanese Fall Festival
Sumo Byamba competes world-wide, has had a streak of over 100 consecutive victories, and has won two consecutive World Sumo Champion titles and a gold medal in the 2009 World Games. He has appeared in over 120 TV commercials, TV shows, and films, including Oceans 13
World Champion Sumo Byamba will make a special appearance at the Japanese Fall Festival on Friday evening, September 9 and participate in a Sumo match on Saturday, September 10 at 7 p.m. in the Mizumoto Japanese Stroll Garden
Mongolian-born Byambajav Ulambayar competed in sports since he was a child. By age 15, "Byamba" had captured national junior champion titles in judo, sambo, and Mongolian wrestling. Discovered by Japanese Grand Champion, Onokuni, Byamba was invited to join a professional sumo team and train in Japan.
Life was not easy for in Japan for Byamba who started with no knowledge of the sport, Japanese language, food, or culture , but young "Daishochi" (Byamba's pro sumo fighting name) adapted, and at age 16, won a divisional championship in professional sumo. By age 18, Byamba was the highest-ranked sumo wrestler on his entire team.
Although Byamba was predicted to achieve Champion or Grand Champion status in Japan, at age 20 Byamba decided to leave professional sumo. At age 21, he was invited to perform sumo in the film Oceans 13. After spending time in Los Angeles after the shoot, Byamba decided to stay longer.
After leaving Japan, Byamba had opportunities not available to sumo wrestlers in Japan. He now competes worldwide and has been absolutely dominant on the world stage, winning tournament after tournament, all over the planet. At one point, Byamba had a streak of over 100 consecutive victories!!
Byamba won two consecutive World Sumo Champion titles (2006 in Japan & 2007 in Thailand). In 2009, when the World Sumo Championships was not held, Byamba competed in the World Games, which is held every four years and run by the International Olympic Committee. At the competition in Taiwan, Byamba thrilled the crowds, by winning the gold medal – his third World title!
Byamba continues to compete internationally, while simultaneously developing his acting career. Since acting in "Oceans 13", Byamba had performed in over 120 TV shows, films, commercials, and live events all over the world, including being the face of Subaru Canada, competing on America's Got Talent, spending a week on Gran Hermano (Big Brother). Wherever he goes, Byamba's quite a crowd-pleaser!
Go to http://SumoByamba.com to see videos, commericals (the KGB Super Bowl deput is a winner!),  and more information about Sumo Fitness.
See the full 2011 Japanese Fall Schedule here.