Global Studies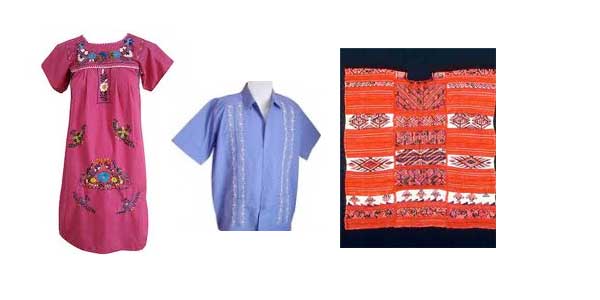 Published on April 13th, 2011 | by Drury University Global Studies
6
Clothing in Mexico
There are many types of traditional clothing styles in Mexico, but the major styles include the quechquémitl, huipiles, puebla dresses, for women and sombreros, sarapes, and guayaberas for men. What each of these garments shares is a colorful, vibrant appearance and each is worn for its comfort, versatility, and functionality all across Mexico.
The quechquémitl can be compared to a poncho that women in Mexico wear for special occasions. It is made of two rectangular pieces of breathable cotton cloth and is decorated with colorful and exquisite hand-stitched embroidery.
Another garment Mexican women commonly wear is called a huipile which is a piece of clothing with lots of personality and is usually worn for everyday events. This piece of clothing is known for its highly decorated breastplate, which consists of a large portion of cloth that is woven in straight or downwards, zig-zag stitches, above which lie criss-crossed stitches.
puebla dress
Puebla dresses, worn for everyday use, are also commonly worn in Mexico and are becoming increasingly more popular in the United States. These lightweight, cotton dresses are usually short-sleeved, loose fitting and feature detailed, colorful embroidery patterns.
The sombrero is perhaps one of the most commonly known Mexican garments in the United States, due to the countless Mexican-American restaurants that often use the bright colors of the sombrero to add some flare. This Mexican hat also serves a very practical purpose since its wide brim protects the wearer's head, neck, shoulders, and upper torso from getting sunburned in the hot Mexican sun.
The serape, going in line with the previous clothing garments, is also very colorful but also serves a very functional purpose. Serapes, which are made of heavy wool or cotton, are used as shawls or blankets that can be wrapped around the body to protect the wearer from the cold.
The third major type of garment for men living in Mexico is the guayabera. This garment is a lightweight cotton, usually pastel-colored, shirt that is worn for casual or formal occasions. These shirts are commonly worn for their comfort in the Mexican heat and for their attractiveness because they are embroidered with beautiful designs.
One thing to remember while traveling to Mexico is to dress for hot weather. As we can see from these six most popular clothing items, comfort is essential in the Mexican heat, however, the people of Mexico will surely tell you to never sacrifice comfort for colorful flare.
To learn more about clothing styles in Mexico, copy and paste these links into your browser window:
http://www.uv.mx/popularte/flash/scriptphplen.php?sid=181&len=In
http://www.oaxacaoaxaca.com/stories-202.htm
http://www.themexicandress.com/puebla-dress-history.shtml
http://www.travels.com/destinations/mexico/history-mexican-sombreros/
http://www.stylemexican.com/mexican-serapes-blankets.html
http://www.buzzle.com/articles/traditional-mexican-clothes-and-costumes.html