One Couple's Story of Home-Stays by Cindy & Bob Stephens.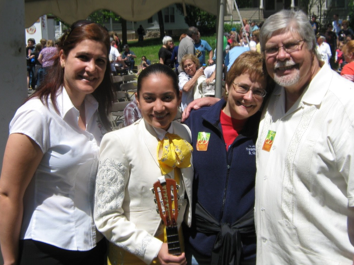 Whether coming or going, home hosting is a great experience.
This year, my wife and I have had the experience of both.
Staying with a Host Family
In February, 2010, I traveled to Isesaki, Japan representing Spring- field City Council to renew and re-affirm our 24-year Sister City relationship. After the initial night or two in a local hotel, all members of our visiting party were assigned to home hosts.
The Nishamuri family welcomed me into their home for the rest of the week. My family consisted of Mr. and Mrs. Nishamuri and their two daughters. Their son was away in Tokyo at school.
As home hosts, they volunteered their time to drive me to wherever I needed to be and also spent a day showing me around Isesaki, where we visited a large religious statue, an open air market, a grotto with a number of religious icons displayed, and then had a meal at a very nice restaurant. We then returned to the house, where we all got dressed for the banquet that evening.
Japanese society is more formal or 'scheduled' than here in the U.S. and the first order of business on my first evening in their home was to arrange our schedule for the next day. This pattern was followed for the remainder of my trip. I was there, although trying to stay out of the way, while the Nishamuri daughters were getting ready for work. I went with them to the grocery store and, essentially, followed their schedules unless I had other appointments scheduled by the International Relations Department.
The really important thing about staying with my home hosts was the almost immediate feeling of becoming a part of their family. I feel as though I have another family in Japan and I certainly hope they understand that we are their family here in the states.
Being a Host Family
The hosting part is a little bit different. Cindy and I hosted two of the members, Blanca and Yasmin. For the all-female mariachi group, we were the ones who knew where we were going, when we had to be there, and were there to help provide whatever they needed to make their trip to Springfield a success.
We met them at the airport and took part in the welcoming ceremonies. We also learned which of the musicians would be staying with us and had a few minutes to introduce ourselves before we all headed out to our various homes. It turned out that the ladies were starving (two legs of an air trip without food will do that), so we gave them several options of restaurants and their choice was The Argentina Steak House.
After dinner, we got them settled in and then gathered in the family room to get acquainted. We looked at family photos and learned that all the musicians were professionals and that this was their only job. We heard about their weeklong trip to London (they arrived back in Mexico the day before they left for Springfield!) and about how they were selected for the group.
The next three or four days were a whirlwind of appearances, changing costumes, and getting them from one spot to another. Although they were very tired, they were always professional, and their appearances at the schools were highlights of the students' week.
Again, the main take-away for me was the feeling that I now have another extended family in a different country. Cindy summed up that feeling perfectly when Yasmin was playing a solo, "It's our daughter! I'm so proud!"
There is no doubt in my mind that Blanca and Yasmin understand that they are welcome in our home at any time and that, when we get to Tlaquepaque, we will be looking for them.
For more information about how to host visitors from our Sister Cities, or opportunities to go on home-stay visits to Isesaki, Japan or Tlaquepaque, Mexico, please contact:

Springfield Sister Cities Association (SSCA)
PO Box 8368
Springfield, MO 65801
(417) 864-1191
Email: sistercity@springfieldmo.gov